Why you need to adopt the J-Beauty routine in 2022
By Kuma-san, March 2022
Were you into the 10-step skincare routine that was popular in 2016?
It might be time for a change. "Skinimalism" recently topped Pinterest's annual Trends Prediction report in 2021. According to the report by Pinterest, people are moving away from elaborate routines to adopt a "less is more" approach, letting their natural skin complexion be the focus.
While the Western approach usually features more aggressive exfoliation and harsh formulas, the Japanese have a simple yet nourishing philosophy that emphasizes gentle double cleansing, hydrating and moisturizing layers, and sun protection.
Skincare experts featured in

Vogue

"saw people pulling back from throwing so many actives and products in general at their skin which often meant sensitized and irritated faces, we will be seeing more targeted but kinder skin routines. Think balance and simplicity or treat and repair rather than all guns blazing."
While Western and Korean beauty products are still seen on shelves, the minimalist routine is on the rise. And with pandemic-related lifestyle shifts, a minimalist routine has never been more popular.
So, what exactly is the point of Japanese beauty and why is it so widely loved? Read on to find out.
What J-Beauty encompasses
If you have trouble following a complicated skincare or beauty routine, you'll be glad to hear that the Japanese skincare routine consists of minimal high-quality and value-for-money products.
They can do the job of a complicated skincare routine with multiple products of balanced formulation, and it's a huge bonus that you'll save precious time with the minimalist J-Beauty routine.
J-Beauty is all about "mochi" skin, which translates to moist and supple skin that is clear, smooth, plump, and radiant from within.
Want to adopt the simple Japanese beauty skincare approach? Here's how.
What is the J-Beauty skincare routine?
The J-Beauty routine has three main components that promote prevention, simplicity, and functionality.
Cleanse
Because if your base isn't clean, what's the point of piling on skincare products?
J-Beauty is all about a gentle approach. This is why it promotes using an oil-based cleanser to remove makeup, followed by a soft, creamy, and dense Japanese foam cleanser to remove the remaining dirt, sweat, oil, residue, and environmental stressors from your skin.
Hydrate
You can then apply lotion to clean skin to balance and prepare it for the absorption of nutrients.
Why is this step necessary? Your skin acts like a sponge, and damp sponges have better absorption than dry sponges.
Seal
Nourish your skin with treatments and serums specific to your skin type. Then, lock in all the nutrients with cream and protect your skin with sunscreen.
Japanese beauty treats skincare as self-care. This is why many J-Beauty skincare products use botanical ingredients that are gentle yet effective. By focusing on keeping your skin supple and nourished, you won't need to rely on harsh and aggressive treatments.
Who should try the J-Beauty routine?
The real question is: Who shouldn't?
J-Beauty products are gentle on your skin but deeply nourishing, and a J-Beauty routine is a fantastic way to turn your skincare into a mindfulness tool. Everyone can benefit from giving Japanese beauty a go.
The J-Beauty routine is perfect for you if you…
Are inconsistent with your skincare routine
As aforementioned, the J-Beauty routine is simple and straightforward, making it easy to follow every day. There's no excuse when your skincare routine is only three to five steps long.
Are new to skincare
With simple products that work, your skin and mind will not be overwhelmed by a plethora of new skincare products and ingredients. The Japanese beauty routine can be your first foray into skincare.
Have no time for a complex skincare routine
Complicated skincare routines can be mentally and/or physically exhausting, especially if you had a long day or are gearing up for a busy one.
Since the J-beauty routine is simple yet effective, you'll still be able to keep up with all your work and personal commitments.
Want value-for-money skincare products
We know that skincare can get excessive, which leads to leading to unnecessary expenses — that's why we champion a simple routine that works.
Instead of buying a bunch of products, going through trial-and-error, and layering them in order to see results, why not invest in a handful of hero skincare products instead?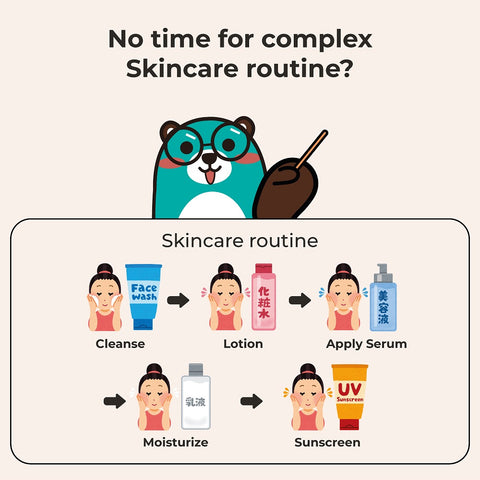 Get started with your J-Beauty routine today
J-Beauty is bringing a new age of skincare to you. With highly-effective ingredients, you don't need a whole army of skincare products to get beautiful, glowing skin.
For J-Beauty newbies, we have just the kit for you: Our #starterpack.
Not only will you effectively nourish your skin, but you'll also save time, money, and the environment.
What are you waiting for? Get started
today
.